Archived News Item
A JOYOUS CELEBRATION
September 10, 2015
The year 1915 saw the Sisters of Mercy from Townsville, Queensland expanding northward to the pastoral and farming district of the Herbert River, centred on the town of Ingham.
Over the next one hundred years, the Sisters ministered in a number of primary and secondary schools, including boarding schools, and in parish and pastoral work. Two Sisters, Nina Barra and Marie Geddes maintain a Mercy presence there today.
The Sisters and the people of the Herbert River have always enjoyed a relationship of mutual respect, love and support. The people of the district welcomed the Sisters wholeheartedly and supported the Sisters in collaboration and friendship. One method of practical care for the Sisters was shown in supplying their needs with a constant supply of farm produce. The Sisters were a beacon of faith, the providers of education for generations of students, and a support to families in difficult as well as happy times.
Catherine McAuley's innovation of radical decentralisation and her injunction to the Sisters to respect the local and to become part of the spiritual and social fabric of the area has been beautifully expressed in the Ingham District. The centenary celebrations were a joyous and touching expression of this.
The people of Ingham are famous for their ability to celebrate. A large crowd, all dressed in festive clothes, greeted the twenty Sisters who were their honoured guests. The celebration contained three events, the dedication of Mercy Hall, the Eucharist and a celebratory meal.
As a special centenary project, the old church has been carefully restored as a parish meeting centre and named Mercy Hall. Father Damien McGrath, Parish Priest, blessed and dedicated Mercy Hall and paid tribute to the Sisters.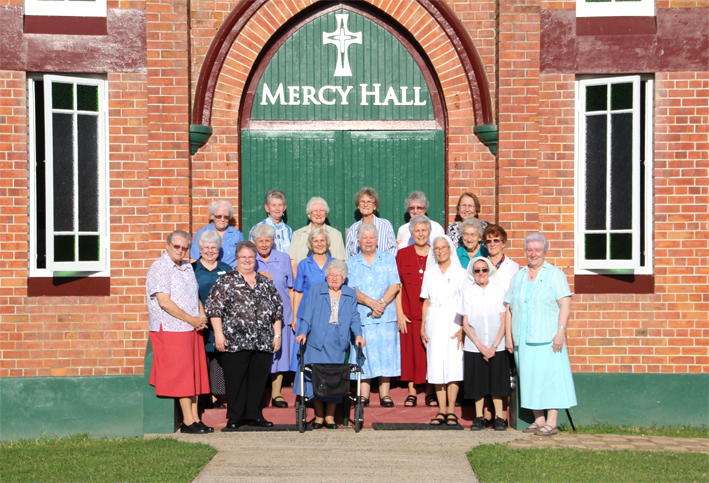 The celebration of the parish Eucharist was a very joyous occasion, enhanced by choristers from the parish and the district leading the congregation in the singing of hymns old and new.
The Eucharist was followed by a celebration dinner attended by over 200 people. Sisters were allocated to tables of parishioners. Many of the sisters had served in the district, acquaintances were renewed, stories told, reconnections made and joys and sorrows shared. Each table was decorated with flowers and a carved wooden Mercy Cross, which were presented to the sisters at the conclusion of the evening. Students from Gilroy-Santa Maria College entertained the group.
Members of the organising committee and Father Damien spoke about the history and impact of the Sisters, and thanked and honoured the Sisters. Sr Nina, herself an Ingham local, gave an inspiring personal reflection of the impact of the Sisters of Mercy on her own life, and on her ministry as a Sister of Mercy in the Ingham area.
This has been a wonderful event for all the Sisters who attended. Thanks and congratulations go to the organising committee. The mutual love and care of the Sisters and the Herbert River people has been an inspiration to so many and a tangible experience of Mercy in action.
Messages to: Marie Melville rsm