Archived News Item
A JOURNEY OF FIFTY YEARS
May 1, 2015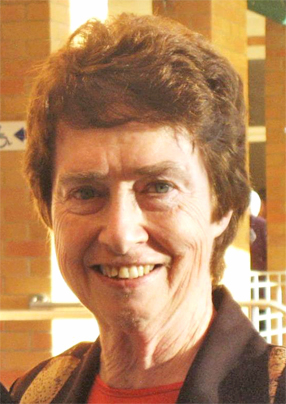 As I celebrate 50 years as a Sister of Mercy, I give thanks for the people and places who have brought to life in me the gifts of faith and Mercy, beginning with my family and the Sisters of Mercy who taught me in Condobolin, where I was born and went to primary school, and in Broken Hill in far western NSW, where I was a boarder for my secondary schooling.
Living in close proximity to the sisters in this time in boarding school I had a sense of a shared life lived happily. It was glimpsed in the convent community and in the lives of the sisters I was taught by. That witness, along with times of reflection during school retreats, opened me to the possibility of being part of their life.
The companionship of classmates on this journey in faith was probably another influence. Two present Sisters of Mercy, Helen Owens and Marie Ralph, were fellow students at school in Broken Hill and we all entered the Wilcannia Forbes Congregation novitiate in Parkes in 1962. After profession we went to St Anne's in Canberra, the head house of the Union of the Sisters of Mercy and the base for many young sisters from a number of Congregations to undertake training for the ministry of education. This early experience of community with sisters from across the wider Mercy scene was an enrichment that sowed in me an appreciation for our shared engagement in Mercy, something that recent developments in our Institute have brought to fuller life.
In the late 60's I returned to the outback, teaching in our Mercy secondary school in Broken Hill. Then followed twelve years "on the road" as a consultant with the Wilcannia Forbes Diocesan Catholic Education Office, travelling to schools across the western half of NSW. In the 70's and 80's changes in the education scene and in religious life saw many of our sisters taking up formation opportunities, moving out of the school scene and finding ministry opportunities in the city. These changes posed new questions about what Mercy life and ministry now meant.
In 1997, after time as Congregation leader, I took up a ministry at the Australian Conference of Leaders of Religious in Sydney. This included projects that focussed on those in our society who are marginalised and disadvantaged, particularly Aboriginal people. The challenge to engage "where Mercy and Justice meet" was a new dimension for me of Jesus' earlier call to "Come and See" and has continued to move me in the twelve years I have shared in the human rights initiatives of the Edmund Rice Centre for Justice and Community Education.
Now as the new Institute takes shape among us, I find my Mercy life invigorated with new networks and connections and a new sense of the invitation "to know God's loving kindness and share it with others."
Messages to: Daphne McKeough rsm