Archived News Item
A hundred not out!
August 17, 2006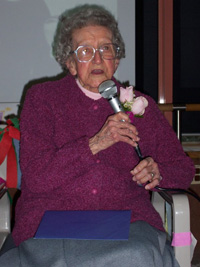 Born in Sydney on August 6, 1906, Kathleen Campbell in 1924 entered the Sisters of Mercy, Parramatta, where, at Our Lady of Mercy College, she had completed her secondary education. She was professed on December 21, 1926 and, under her religious name of Sister Mary Anthony RSM, she will celebrate her 80 years of religious profession in December, 2006.
But a big personal landmark took place on Sunday August 6, 2006, when she became the first sister of the Parramatta Mercies to live to reach 100 years.
Still in good health and with a lively sense of humour, Sister Anthony now lives at Stella Maris Hostel in Cronulla, after spending nearly 70 years teaching music to primary classes in Mercy schools in Cronulla, Bondi Beach, Surry Hills, Harris Park and Ryde.
On THE birthday, the crowd filling the function room in Stella Maris included her nieces and nephews, led by her two sisters, Mary and Peggy, over 50 Sisters of Mercy, and her many friends from Stella Maris and elsewhere.
During a celebration of Sister Anthony's life and ministry, with prayer, music, song, film, dancing and speeches, Sister Ailsa Mackinnon, Congregation Leader, presented Sister Anthony with a blessing from His Holiness, Pope Benedict, a message of congratulation from Her Majesty, the Queen, (with a regal photo!) and numerous other messages of goodwill.
While at Surry Hills during the Depression, Sister Anthony was most impressed by the South Sydney Leagues Club's generosity to many needy children, and she became, and still is, their loyal supporter over the years, always firmly believing in their success – one day!
Her loyalty was rewarded when on Monday August 7, their current hooker, Stuart Webb, arrived, to present Sister Anthony with another treasured memento – a Rabbitoh's red and green jumper, signed by all the members of the team!
Long may Sister Anthony continue to enjoy her days as the oldest sister of the Parramatta Mercies.
From: Sister Marie Butcher RSM (Parramatta Congregation)
Messages to: mbutcher@mercy.org.au