Archived News Item
A FULL AND RICH MERCY JOURNEY
October 19, 2015
I am one of Australia's earlier "boat people", my family having migrated to Australia in 1952. Holland, my birth-country, was left devastated after World War II, and my parents sought "a better life" for themselves and their six children aged under twelve (the seventh was born "a dinky-di Aussie" some seven years later). I am the second eldest, and the oldest girl. I carry some of the typical characteristics of one in that position in a family – responsible, reliable…as well as some which typically characterise my cultural heritage – hard-working, neat, tall, strong-minded…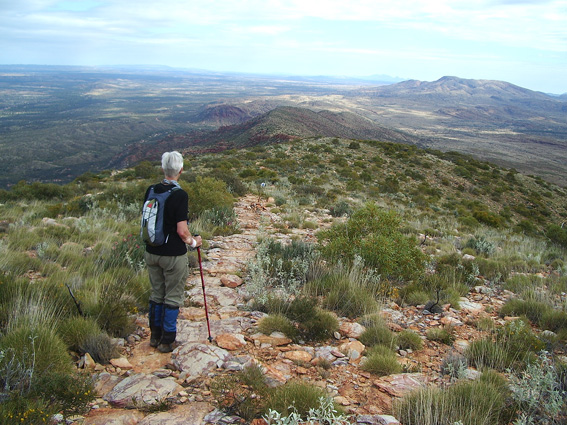 The "better life" was not immediately obvious nor available! We arrived at Port Melbourne with the remnants of the 100 pounds we were permitted to bring, not knowing anyone in the entire country, having no house to move into, no work for my father, and only the merest smattering of a few English words. The experience for me was one of displacement and loss of identity, the only familiarity being my immediate family. I wanted desperately to "belong" – to be the same as the other students, instead of wearing different clothes, having an unpronounceable name, different sandwiches for lunch, different customs, different language… Thank God for parents who had a strong love for each other and for their children, a deep faith and consistent trust in God, and extraordinary reserves of inner strength and courage! What was immediately available in the small country town to which we found our way was wide-open spaces… and there began my love for the bush, which "breathes my spirit big"!
After several changes of schools, necessitated by my father's various job locations, I finished up at Sacred Heart College, a Mercy School in Ballarat. The four years there, which included Primary Teacher training, were the longest time spent at any one school. I had always wanted to be a teacher, inspired by several aunts and uncles. I began my professional life as a lay teacher, then taught for another seven years after entering the Ballarat Mercy Congregation. I loved teaching, delighting in the wonder and openness to learning of my young pupils, their trust, and their capacity for growth. I presumed that would be my life's work!
To my great surprise, in the mid seventies I was requested to undertake a year's study at the Institute of Religious Formation in St. Louis, USA. On my return to Ballarat I worked in Initial Formation, and simultaneously was being asked to offer spiritual direction. Thence began a new and enduring expression of my life's work! Over the years I have spent some time in various Congregational leadership roles, but my call to and love for spiritual direction has remained a constant. My ministry is one which I experience as a profound work of Mercy, calling me to participate in God's work of nourishing the hungry and thirsty, freeing the imprisoned, comforting the mourners, assisting the homeless to discover a place of belonging and always inviting the recognition of self as the beloved of God. In addition to spiritual direction I'm involved in one-to-one and group ministry supervision and accompanying others in individually directed retreats. These ministries now have a "home" under the umbrella of McAuley Ministries.
For almost fifteen years I have been part of the staff of the Heart of Life Spirituality Centre in Melbourne, engaged in the formation of spiritual directors. My involvement is with the one-year, full-time programme, which in recent years has become more and more culturally diverse. Currently we have students from India, China, Africa, Fiji and Germany, all of whom will return to their country of origin at the end of the year and be missioned to formation, spiritual direction or leadership roles. It's exciting to know that we are making a significant contribution to the missionary work of religious life and of the church.
I do have other interests apart from my work! Many of them, like reading, doing jigsaws, crosswords and sudokus and the occasional card game cater for my highly introverted self. The other is one I've discovered in more recent years – bushwalking. The solitude, the steady rhythm of walking, the sights and sounds and smells of the bush, combine to meet a deep need in me for contemplative being. I've been fortunate to have companions who enjoy a similar experience, including my two sisters. We walked the Great Ocean Walk not long ago and parts of the Larapinta Trail west of Alice Springs a couple of years back. I'm blessed to have good health.
All in all, I'm deeply aware that mine is "a fortunate life", for which I'm deeply grateful to God!
Messages to: Elisabeth Teggelove rsm