Archived News Item
A FORMATION DAY WITH A DIFFERENCE
June 1, 2015
A MORNING OF RECORDER AND AN AFTERNOON OF THEOLOGY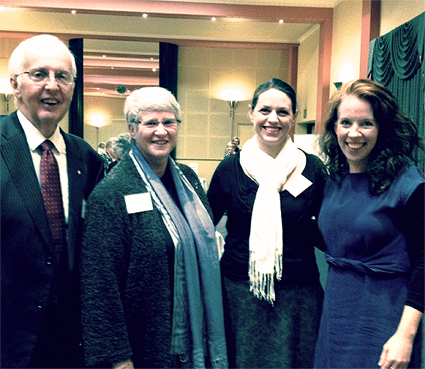 In summing up her experience of the recent ongoing formation day for past participants in the Mercy Leadership Program and Dublin Pilgrimage, one leader remarked that when she saw the invitation for the day she could not imagine how 'a morning of recorder and an afternoon of theology' could be not only relevant for her ministry work but also thoroughly engaging and inspiring.
On Friday 15 May 2015 more than 30 leaders who have completed the Mercy Leadership Program and Dublin Pilgrimage prior to 2015 gathered in Ivanhoe for a full day of formation for Mercy leadership.
There was a wonderful spirit of welcome, community and hospitality amongst the gathered Sisters, lay women and men. Leaders participating came from across Mercy ministry areas including health and aged care, multimedia, Mercy Support Services, education, archives, the Institute leadership team and community leaders.
The world renowned recorder player Genevieve Lacey presented the morning session: a combination of key note presentation, conversation and live music spanning 10 centuries. Taking up the theme Learning to Listen as the key characteristic of good leadership, Genevieve used substantial parts of the presentation she first gave in November 2013 for the 15th Annual Peggy Glanville-Hicks Address, to ensure relevance and inspiration for the Mercy leaders assembled. Indeed the morning with a recorder player proved inspiring, challenging and insightful stimulus for all gathered.
The 'theology' of the afternoon was ably and challengingly presented by Jan Gray RSM. Jan offered those gathered a theological perspective on the key themes identified in the morning session. Through presentation, reflection and discussion those present were invited to bring their experience of leadership today into dialogue with the Gospel tradition. With the encouragement to 'hear' something of the Mercy of God from within ourselves. Participants discussed ways to be innovative, daring, inventive, tenacious and courageous in seeking to lead for a more merciful world.
If you would like to know more about the significant work this office does we welcome enquiries to Carmel Crawford at mercyethos@ismapng.org.au or via phone 03 94991577.
Carmel Crawford – Institute Mercy Ethos Coordinator
Photo L-R: Julien O'Connell (Chair Mercy Health & Aged Care Inc.), Annette Schneider rsm (Institute Leadership Team), Linda Mellors (Executive Director Mercy Public Hospitals Inc), Genevieve Lacey (Presenter).