Archived News Item
A "˜first' for the Institute
August 3, 2006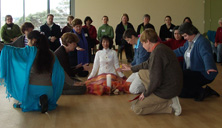 New members and formation personnel from Australia, Papua New Guinea, Pakistan and Aotearoa New Zealand gathered with Local Formation Animators, the Institute Formation Council, the Institute Leadership Team and one of the leadership team members from the Congregation of the Sisters of Mercy, Aotearoa New Zealand, at St Scholastica's College, Glebe (Sydney) on Sunday July 16.
This was certainly a first for the 53 Sisters of Mercy involved. The new members and formation personnel had spent three days reflecting and sharing on the theme: The Meeting of Cultures… one heart, one soul in God.
Saturday's workshops for the new members, together with some of the more recently finally professed members and formation personnel, explored the question: What nourishes and sustains me and helps keep me faithful to my calling?
Coinciding with this gathering, Local Formation Animators (LFAs) from across Australia met at Chevalier Resource Centre in Kensington (Sydney) to reflect on a very similar theme: What keeps me true to my calling? Each LFA will take this same process of reflection back to her congregation to invite exploration of the question with her own sisters.
On the Sunday, participants at St Scholastica's College shared their insights on faithfulness to our Mercy call. The new members expressed their insights in very beautiful and creative movements which were deeply moving, very prayerful and inspirational, and sometimes touched with bright humour.
The climax of the morning was a beautiful and richly multicultural Eucharistic celebration, with Father Jamie Calder SJ, inviting us all to bring our prayer and reflections to it in a very inclusive way.
From: Margaret Sheppard RSM Institute Formation Co-ordinator (on behalf of the Institute Formation Council)