Archived News Item
A day with Catherine McAuley: a woman of letters
June 17, 2009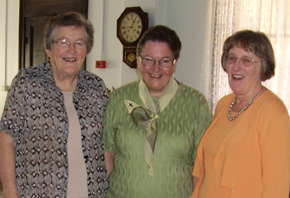 Melbourne Sisters of Mercy, Mary and Helen Duffy recently visited the NSW north coast to facilitate retreat sessions on Catherine McAuley for Grafton sisters, associates and friends. Sister Colleen Rhodes RSM reports.
On Sunday May 3, the Conference Room at Grafton Convent was abuzz with the sounds of women who had come to reflect on the wonderful woman whose charism animates and encourages so many people today. Sister Mary Duffy RSM (Melbourne) channelled their energy into stillness with an opening prayer that drew them into the contemplative heart of Catherine McAuley.
Mary and her sister, Sister Helen Duffy RSM, had come from Melbourne to lead a retreat for the sisters in Grafton. However, Mary was at McAuley Catholic College to work with staff as soon as she landed in Grafton! The next day she delighted and enlightened Year 5 and 6 students at St Mary's Primary.
Later, a lovely touch was a meeting with Willie McAuley's great grand-daughter, Patricia McAuley. Patricia, who lives on the NSW South Coast, was in Grafton visiting her niece, Amanda Steiner, great-great grand-daughter of Willie.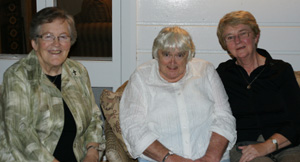 Sister Barbara Bolster, Grafton Congregation Leader, had been invited to meet Patricia, and when Amanda realised Mary, Postulator for Catherine's cause in the Australia-Pacific region, and Helen were in town, she was delighted to include them in the invitation.
On Sunday May 3, associates and friends of the sisters gathered for what turned out to be a wonderful exploration of the heart of Catherine. Using letters Catherine had written to sisters for various reasons, Mary skilfully encouraged the participants to look further, be in touch with the feelings evoked and follow them into Catherine's heart and mind. All present came closer to Catherine's reality and her relevance in their places. Her spirit will now be stronger in Grafton, South Grafton, Maclean, Yamba, Evans Head and even Sydney!
Those who came for the day brought their lunch and something to share so Mercy hospitality abounded in the dining room. The conversation was like one of the dances of Catherine's letters; it moved backwards and forwards, lilting to the movements of Catherine's goodness to the poor, her concern for all who worked with her, her focus on her centre – God.
There was a strong sense of a community united by their love for this Mercy woman who is still able to inspire and motivate in such life-giving ways. We are grateful to Mary and Helen for their wonderful contribution to deepening Mercy spirituality in Northern NSW.
From: Sister Colleen Rhodes RSM (Local Communications Facilitator, Grafton)