Archived News Item
A CRY FOR COMPASSIONATE MERCY
August 25, 2016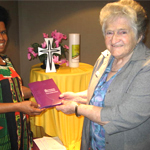 Brian was a fifteen year old Year 10 student from a large High School on the Central Coast. I met him when he was admitted to the Spinal Unit at Royal North Shore hospital. He had been diagnosed as a partial quadriplegic. He was the only child of two high school teachers.
On his admission I was paged to the unit. Brian's parents were present and made it quite clear my presence "would not be required." As I turned to leave I was deeply touched by the look of painful anxiety on Brian's face. It was truly a cry for Mercy, and I was greatly affected by it.
I visited Brian every day outside visiting hours. After a week his mother returned to work but his father remained in Sydney. Over a period of many weeks I grew to know Brian very well. He was dux of his class, played in the band, was the best swimmer and cricketer, headed the debating team and was a prefect. In other words, he was an outstanding student who always did his best. One could be forgiven for thinking he had a wonderful life.
As Brian continued to allow me to hold his story, I saw a very unhappy, lost boy. No matter how diligently he strove to accomplish whatever was asked of him, his parents were never satisfied. He was told constantly to give more, and so one day, when he felt he had no more to give, he attempted to take his own life.
Brian endeavoured to describe to me what he was feeling at the time, knowing he could never live up to his parents' expectations, being incapable of pleasing them, so what was the point of trying.
Brian went out for a walk one day, and threw himself off a cliff, became caught in a tree, hanging by his feet. His calls for help went unheard, until some hours later a policeman found him. The beach was inaccessible except by helicopter. I was overwhelmed and deeply touched by what this boy had endured, particularly as he told me, as he was falling, the words "I don't want to die," were running through his mind.
During each visit Brian spoke more and more about what he was feeling, all that had and was happening to him. He spoke also of his relationship with his parents. He told me he looked forward to my visits because he was able to tell me how he felt, and I listened.
We talked about many things, the realization of talents he would no longer be able to exercise. We also talked about faith – what he did and did not believe. I endeavoured to assure him of God's unconditional love, and no matter how often we fail "to clear the bar" other people set for us, God's love is total and unconditional.
Brian would be in his forties now, and I often wonder has his cry been heard by his parents.
Messages to: Bernadette Franks rsm