Archived News Item
A Conversation with Jocelyn Bignold
August 29, 2018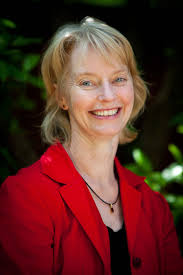 Join us in an online conversation with Jocelyn Bignold, Chief Executive Officer of McAuley Community Services for Women (MCSW).
MCSW, recently celebrated ten years of serving women and children within the Victorian community. MCSW  provides much needed services for women and their children who are escaping family violence, and for women who are homeless.
Following in the footsteps of Catherine McAuley, they  offer welcoming crisis and longer term accommodation, vital employment services, social and recreational support and children's services.
Their services include:
* a 24/7 safe house which provides crisis accommodation to women and children who are escaping family violence
*McAuley House a unique and ground-breaking approach to homelessness services for women
* a specialist employment program which provides intensive support for women who've been homeless or experienced family violence to find and sustain work
children's programs – early intervention services to address the trauma that children experience when they are exposed to family violence
* Engage to change – an innovative preventative education program helping employers and their employees  proactively address family violence in the workplace.
This is the first in a series of online interactive sessions where you will have the opportunity to listen, view and also type your questions for our guests to answer in real time.
Wednesday September 26 at 12noon (AEST and PNG)
11:30am (Adelaide) and 10:00am (Perth)
A recording will be available following.
CLICK HERE TO REGISTER FOR THE INTERVIEW
(Please note, to watch and participate in the live conversation you will need to click on the link above, as due to the interactive software we will be using it will not be able to broadcast on this website).
Technical Support
Prior to the live online interview we will be holding a test session. Here you will be able to logon to a live feed to see if there are any technical issues with your computer and that you can receive sound and video.
The test will commence at 1:30pm AEST Friday September 21 and run for approximately 5 minutes.
CLICK HERE TO REGISTER FOR THE TEST
If you are unable to see video or recieve sound in Internet Explorer we encourage you to downwload Chrome.
If you are a Sister of Mercy please contact the technology help desk for  any assistance.
Messages to: Institute Communication
CLICK HERE TO RETURN TO JUST MERCY