Archived News Item
A comfortable cup of tea with the PM
November 3, 2009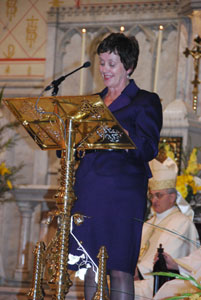 Prime Minister Kevin Rudd invited a small contingent of Australian and Irish Sisters of Mercy for afternoon tea to celebrate the 150th anniversary of the arrival of the Sisters of Mercy in Goulburn from Ireland. Shirley Garland RSM (Goulburn), who participated in the gathering, reports.
Senator Ursula Stephens (NSW Parliamentary Secretary for Social Inclusion and the Voluntary Sector, and Parliamentary Secretary Assisting the Prime Minister for Social Inclusion) was instrumental in inviting our visiting Irish Sisters and their companion (Srs M Pius and Bernadette and Mrs Joan McDermott) to Parliament House following the Goulburn Mercies' Sesquicentenary Celebrations at the end of October.
On the morning of their visit, Senator Stephens acknowledged the Sisters of Mercy in the Senate at which time she made mention of the "extraordinary" influence over the last 150 years. She spoke of the vision of Catherine McAuley and her call to service to the poor and the disadvantaged.
She said: "All around the south-east of Australia are Mater hospitals and many, many Mercy schools and colleges that pay tribute to the Mercy mission and the Mercy sisters".
She particularly noted the contribution made by the sisters and the community and clergy in Goulburn at the time of the School Strike in 1962 when the need for more toilets being built in the school brought the issue of State Aid to a head. Following this incident, funding from Governments for Catholic Education started to flow. Click here for Senator Stephens' speech (pp. 37-38).
The sisters were grateful to Senator Stephens for her words and also appreciated her arrangement for an afternoon visit to the Prime Minister. For this visit, the Irish Sisters were joined by Srs Marie Duffy and Shirley Garland.
Mr Rudd invited the little delegation to afternoon tea in his rooms and enjoyable conversation took place while sipping Irish Breakfast Tea especially provided by the Prime Minister for the occasion.
As the Irish sisters were about to leave, the Prime Minister presented them with gifts wrapped in "wattle" gift paper. Sr Bernadette expressed her surprise at receiving such a gift and the Prime Minister responded that it was only fitting as they had given Australia a great gift 150 years ago.
Photos: by Naomi Fallon The Catholic Voice (Canberra-Goulburn Archdiocese)