Archived News Item
A Collaborative Partnership at Work
July 28, 2014
Ritual handing over of property from the Family Care Sisters (FCS) to ISMAPNG
On July 12, 2014, the Family Care Sisters (FCS) and the Institute of Sisters of Mercy of Australia and Papua New Guinea (ISMAPNG), marked a significant development in their ongoing partnership. Since 2008 they have journeyed together in a spirit which would have brought great joy to their founding women, Maude O'Connell and Catherine McAuley, both of whom had a strong belief in the Providence of God and worked for the betterment of women. For Maude – it was providing care and nurture to families by providing practical support for the mother in her own home; Catherine was drawn to providing shelter for homeless girls and women, education of the poor and visitation of the sick in their homes.
In the light of many conversations and discussions since 2008, and after much prayer and further discernment and conversations among their current Leadership teams, the FCS have made the decision to transfer ownership of all properties to ISMAPNG. The Ministry at Rye is being transferred to McAuley Community Services for Women and the FCS have asked that ISMAPNG honour the current contract FCS has with "Daybreak", an ecumenical group using the Bendigo house. At this stage the FCS will continue to manage the ministry at Canterbury (hospitality house) and the Croydon respite facility for women.
Within the Eucharist celebrated on July 12 at Our Lady of Good Counsel Parish Church in Deepdene, Melbourne, to mark the conclusion of the Chapter of the Family Care Sisters, a ritual was held to recognize the transfer of property and the decision both Congregations have made to continue their journey together in faith.

The words which follow were spoken by Jill Harding fcs (Congregation Leader) and Michele Toussaint fcs (former Congregation Leader) to Berneice Loch (Institute Leader of ISMAPNG) as soil from each of the four places was brought forward and placed in a glass vessel and the property deeds were handed over: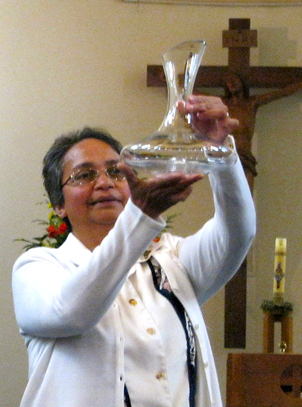 "Berneice, take and receive this vessel, empty at present but soon to be filled with the soil from each of our properties. The soil is a symbol of the fruits of labour of Maude O'Connell and all our sisters, including the two of us. These places have been loved and cared for and are part of our story. Today we gift it to you with our love.
– We give you soil from Bendigo – a place where we nurtured and cared for families for 13 years and which is now being used by 'Daybreak', an ecumenical group which is using the house as a centre for spirituality.
– We give you soil from Rye – a place where many families have enjoyed a beach holiday. We also give you the Ministry at Rye, which will now be carried forward by McAuley Community Services for Women.
– We give you soil from Canterbury – this place has been central to our lives as Family Care Sisters. In March this year we gave you 'Ain Karim' where two Mercy sisters are now resident. The ministries at 'Bethany' and 'Nazareth' at Canterbury will continue to be managed by us, Jill and Michele.
– We give soil from Croydon – a facility which provides care and nurture for women. This ministry is at the heart of who we are as Family Care Sisters; it challenges, yet energizes us. For the next few years we will continue to manage this ministry ourselves.
You have now received the soil from each of our places. We give and entrust to you, as the Institute Leader of the Sisters of Mercy of Australia and Papua New Guinea, the deeds of ownership of these properties. It comes with our love and years of dedicated service. Treasure it. As you continue to plant seeds in this soil we pray it flourishes in new and creative ways.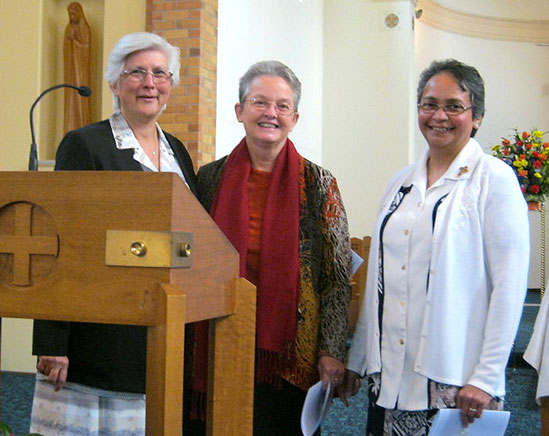 May we hold each other and all of our experiences gently, as we live into this new chapter of our lives as Family Care and Mercy."
In the final part of her response, Berneice acknowledged that
"Today marks another important step in the development of that relationship between our congregations. Jill and Michele, I want to assure you that the Sisters of Mercy will continue to hold you dear and to treasure your continuing Ministry of the Family Care Sisters as if it were our own, while respecting your distinctive and special charism. I know that you reciprocate in supporting and treasuring the Mercy ministry. We consider ourselves blessed and privileged by your trust in us and by your presence among us. Ours will be a genuine unity in diversity as you continue in your own charism. I hope and believe we can continue to be enriched by this diversity. Thank you for this trust. May you be richly blessed as you continue to be a blessing to others."
Messages to: Annette Schneider rsm
Photos: Top – Michelle with the empty vessel.
Bottom – L-R: Jill, Berneice & Michelle