Archived News Item
A Christmas gift that will continue to give
December 7, 2006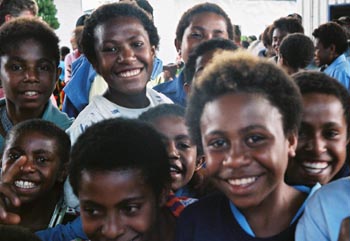 Please support the Mercy Works Inc. Christmas Appeal
Instead of buying a gift for family or friends this Christmas, why not tell them you've made a donation to Mercy Works Inc.?
Mercy Works Inc. is the justice, human rights and development arm of the Sisters of Mercy of Australia. Projects in Papua New Guinea, East Timor, Pakistan and Australia urgently need our support.
DOWNLOAD a flyer for information.
Why not pass the flyer on to family, friends and colleagues?
PROJECTS NEEDING YOUR SUPPORT…
PAPUA NEW GUINEA
Jubilee Project in Goroka – purchase communication resources.
West Papuan refugees in Kiunga – health and education programs.
EAST TIMOR
Education Project in Forohem – teacher training, teaching resources and rebuilding classrooms.
PAKISTAN
Primary School Education Project in Mughalabad – raise awareness among families, provide support teachers and resources.


AUSTRALIA
Resettling refugees in Sydney and Wollongong.
HOW TO HELP
Post cheques to 1 Thomas Street Lewisham NSW 2049.
Call Mercy Works Inc. on (02) 964 1911 and have your credit card details on hand to donate over the phone.
Visit www.mercyworks.org.au/help
ALL DONATIONS ARE TAX DEDUCTIBLE.
Mercy does work…
Support Mercy Works Inc. and together we can make mercy work strongly for the people of today's world.

DOWNLOAD a flyer to pass on to family, friends or colleagues.