Archived News Item
A century on, Sister Stani – Brisbane Congregation – still sparkles and jokes
September 8, 2011
Life and Time are Gifts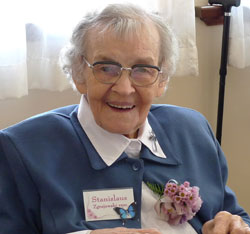 On Friday 26 August the Holy Cross Hostel community gathered in Coolock Courtyard to acknowledge and affirm the special gift of life shared with centenarian, Sr Stanislaus Zgrajewski, affectionately known to all as Stani.
It was a day filled with good food, music and endless story telling by members of the Hostel staff and community and of course by Stani herself. Never lost for a word, Stani graciously accepted the many accolades and wishes expressed by Elaine Gaffney, Nurse Manager of Holy Cross and Peter Jardine CEO of Mercy Aged Care Services. In reply, Stani spoke of her 'recipe for happiness' across 100 years encouraging all to add pinches of joy and good humour and spoons of hope to their living. She then invited all to pray God's blessing for one another, singing "May the Lord bless you and keep you!"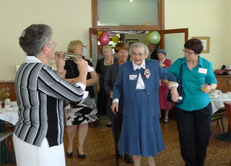 The Holy Cross celebrations concluded with a special liturgy prepared for Stani's 100th Birthday. The Mass included Stani's one request, the hymn Only A Shadow and was presided at by Father John Pagnin, one of the Scalabrinian Fathers. Father John spoke of the myriad of stories held in the lives and on the faces of those who gathered to celebrate. He prayed a special blessing for Stani and all thanked her for the gift of life and friendship shared.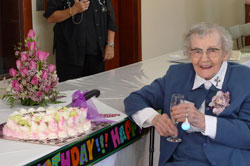 On Wednesday 31st August Stani gathered at Mercy Place with family, friends and Mercy friends for another joyfilled celebration of her 100 years. Stani wanting to do things differently decided that 'she would throw a party' to say thanks. Her only wish was that there were to be no vegetables on the menu. So Afternoon Tea was the setting for this gathering and tones of pink the colour of the day. Stani thanked, shared stories of her life, sang, danced and was truly the guest of honour. Sr Pauline Smoothy, referring to the newspapers of the day from 1911, spoke of the world into which young 'Martha' was born while Paul Smiley, a nephew, thanked Aunty Martha for the countless ways that she had been 'a channel of love in our lives'.
Stani thank you for sharing the gifts of your life and time with so many.
Messages Catherine Reuter RSM