Archived News Item
A Celebration to Remember
October 4, 2011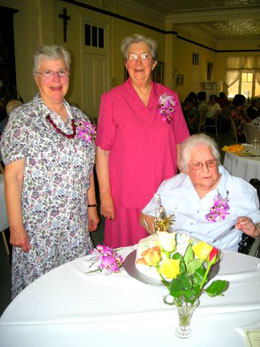 September 30 2011 will be well-remembered by the Grafton Sisters of Mercy. There was almost a full 'roll call' of the Congregation for the celebration of seventy years of profession for Sister Marcia Grant (formerly Sr M. John) and Sister Margaret Hogan (formerly Sr M Kostka) and of fifty years of profession for Sister Cecilia Rowe (formerly Sr M Luke). A double PLATINUM Jubilee sets a spectacular standard for the usually remarkable achievement of a GOLDEN Jubilee.
One hundred and ninety total years of service as Sisters of Mercy have so far been given by Marica, Margaret and Cecilia to the people of the Lismore Diocese and the Sydney Archdiocese. And with one Jubilarian sharing her reflection on this time as one of 'new beginnings', the total looks set to grow, with even more fruitful service into the future.
To begin the celebration Sisters joined in prayer and reflection using readings of the Jubilarians' choice from the Emmaus Journey in the Gospel of Luke and from the writing of Foundress the Venerable Catherine McAuley, with intercessions and prayers of blessing directed to each one, and with songs that expressed, in ways that perhaps only music and the poetry of lyrics can capture, the significant themes of scriptural 'jubilee'…
a time for remembering, a time to be grateful and a time to seek for tomorrow;
memories of tears as well as laughter and of trials as well as triumphs;
the call again to respond to the One who is Mystery whose voice is heard in the song of the universe where the stars sing, the planets play and love invites
the experience of the closeness of God as we journey through the constant rhythms of light and darkness…

In a simple yet moving action of ritual, Sisters used multi-coloured stones dropped in water and spreading ripples as a reminder of the way in which the legacy of Foundress Catherine McAuley's spirituality continues to have its effect through the being and doing of our lives whenever we live out her extraordinary qualities of prayer, hospitality, union and charity, love of the poor and love for nature.


Finally, all joined in a renewal of vows and the singing of Catherine's Suscipe before continuing the celebrations during a cheerful, festive meal complete with cake-cutting, gift-giving, the singing of a traditional Jubilee Ode and even a little speech-making. Among the memories shared, special place went to two dear friends who once shared profession anniversaries but who have already 'gone before on the journey of faith', namely Sisters Cecilia Moran RIP and Marcelle O'Keefe RIP.

Jenny Hartley RSM

Jubilee Talk

September 30th, 2011

What an extraordinary gift we celebrate today! Between these three women in whose honour we have gathered, 190 years have been spent in God's service. None of us has lived for 190 years. In fact, Sisters of Mercy have not existed for 190 years; yet we can, and do, celebrate these years that have been blessed with God's loving kindness in the lives of Marcia, Margaret and Cecilia and the people amongst whom they have lived and ministered.

As we know, a jubilee is a time of thanksgiving, remembering and cherishing the gift of freedom that comes with God's merciful love. It is a time for knowing that freedom is meant for all and letting go of anything that might restrict the ability of others to share in that loving kindness we know as God's mercy. Perhaps as we congratulate Marcia, Margaret and Cecilia on their jubilees, we might reflect on how we can enter fully into the spirit of jubilee. How can I, how can we, create channels of greater breadth and depth for God's mercy that wants to flow through me, through us, to others? That, after all, is what it's really all about. For the Hebrew people the Jubilee year was a reminder that as God's mercy knows no bounds, so in their relationships with each other, they should constantly renew their awareness of the desire of God's merciful heart that even the most vulnerable share the freedom of God's people.

Catherine McAuley obviously understood the message of the Jubilee year. Wasn't her life a constant call to others to be aware of just how much the poor of her day were oppressed by so many constraints on their freedom to live as healthy, educated people who could shape a world where relationships reflected the merciful heart of God? Wasn't her life a model for others who struggled to hear that call and grow in freedom themselves?

As you read what Marcia, Margaret and Cecilia have shared of their lives and ministry, you will notice how relationships have been heart of their call to Mercy. Sr Celsus modelled a relationship with Jesus that really struck a chord in the heart of the young Cecilia. Marcia was so aware of the atmosphere of a convent she visited that she yearned to share the relationships that created it. Margaret was energised by the relationships that she forged during her years of ministry. Each somehow became part of that flow of mercy whose channels have hidden depths and riches. Today, we are grateful to them for their lives of fidelity in mercy. We thank them for their example to us but most of all we thank them for allowing the mercy of God to be channelled through them to us and to our world. We are the richer for both their receptivity to God's mercy and their merciful love for the poor and the needy to whom and with whom they have ministered. Congratulations Marcia and Margaret for your 70 years of 'splendid service'; congratulations Cecilia for your 50 years of dedicated mercy life. We pray that as you reflect on your life, 'joys and sorrows mingled', you will truly reap the benefits of this jubilee year and know new depths of the mercy of our God.