Archived News Item
A CALL TO COMPASSION
June 1, 2015
The Mission: One Heart, Many Voices Conference, hosted by Catholic Mission gathered a broad and diverse group of religious and lay colleagues in Sydney during 18-20th May.
The Conference drew heavily on the words of Pope Francis: "The church must be a place of mercy freely given, where everyone can feel welcomed, loved, forgiven and encouraged to live the good life of the Gospel". (Evangelii Gaudium, 114)
It challenged those who attended to examine the ways that they and their ministries engaged with the marginalised and the dispossessed – those who live and worship on the fringes.
The conference keynote speakers were Fr Stevan Bevans SVD, Dr Maryanne Loughry RSM, Fr Denis Edwards and Mrs Jacqui Remond.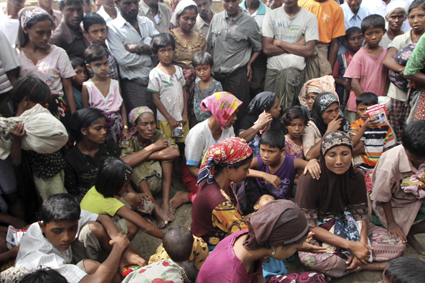 During her keynote address, Sr. Maryanne Loughry RSM spoke powerfully of the plight of thousands of Rohingyan asylum seekers, stranded in boats off the coast of Thailand. Moved by her presentation, Sisters of Mercy worked with other religious and staff in attendance to put together an open letter calling for compassion for this vulnerable group. The letter was signed by over 125 delegates at the conference and was sent to a wide variety of news outlets to encourage others to hear the cries of the poor. It begins:
"We stand together as Christians, calling for mercy for Rohingyan asylum seekers. We call on the Australian Government to display leadership in this crisis and use its influence in the region to broker safe passage for those trapped at sea." Read the letter HERE
To learn more about the plight of the Rohingyas, you may like the read the report of the recent report of the ASEAN Parliamentarians for Human Rights on "The Rohingya Crisis and the Risk of Atrocities in Myanmar." READ HERE

To join the call for change, sign Amnesty International Australia's petition here: http://www.amnesty.org.au/action/action/37213/