Archived News Item
A BUSY START TO THE YEAR
June 1, 2015
Since their orientation, members of Young Mercy Links have had a busy start to the year. They have been involved in a number of special events on top of their regular commitment to volunteering.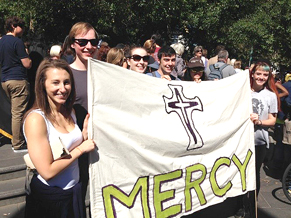 On a beautiful Palm Sunday this year, a group of eight Young Mercy Links members joined the Walk for Justice for Refugees, starting at the State Library and culminating with a gathering at Queens Park. Kaitlyn Krahe summed the day up perfectly, calling the event an "incredible demonstration of solidarity against cruelty and oppression".
Our banner, created by Nathan Peirce provided a much needed way of finding each other, as well as a simple but compelling explanation of both who we are as a group, and what we want for Asylum seekers and refugees.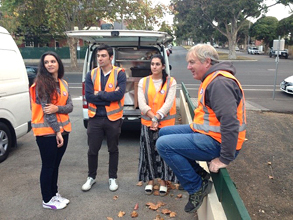 Other events so far this year have included two of the young people who started 'Camp Heide' speaking at the Seeds of Justice student conference on Friday May 22nd; two of the students from Mercy College Coburg returned to the school and spoke of their experiences to the Year 9 students during their 'Make a Difference' retreat and lastly, a very successful Justice evening was held on May 13th. (Stay tuned for more news in the next issue!)
Messages to: Bernadette Inman – Coordinator Young Mercy Links
Photos:
Top: Elisa, Nathan, Mairead, Vincent, Katherine and Kaitlyn at the Walk for Justice for Refugees.
Bottom: Kaitlyn, Vincent and Juliet hear about St Vincent de Paul soup van from Thursday evening group leader, Peter.