Archived News Item
A BLESSING AND A MURAL
August 7, 2015
A Mural to brighten the day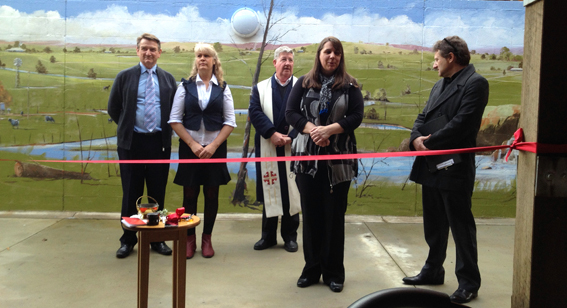 A colourful mural spanning approximately 30 metres wide and 2.5 metres tall has been unveiled at Mercy Health's Bethlehem Home for the Aged in Bendigo.
The mural was painted by local artist, Terry Jarvis, over a two week period and features vibrant farm scenes, rolling hills and flowers.
The mural is the main feature of a wall in the courtyard of the aged care home's memory unit, which offers specialised support to people living with dementia.
The scenes of grazing cattle, lakes and vineyards came directly from conversations between Mr Jarvis and residents of the aged care home – among them his 91 year old mother.
"Most come from farming backgrounds so when I was looking to trigger memories, it was a no-brainer," Mr Jarvis said.
Mercy Health's Bethlehem Home for the Aged underwent a $23 million redevelopment between 2010 and 2013, which included a 60 bed wing on the first floor, a café, landscaped courtyards and a chapel and lifestyle facilities.
Mercy Place Fernhill blessed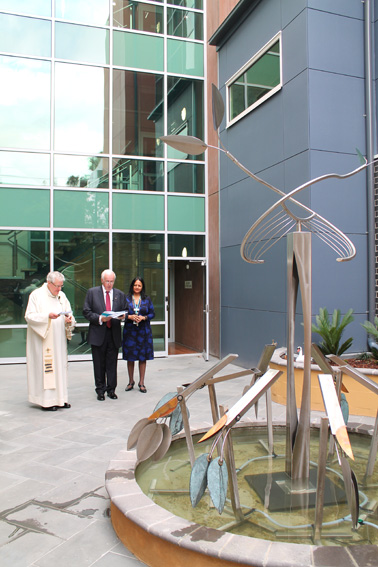 The new residential aged care home at Mercy Place Fernhill in Sandringham, Victoria has been blessed by Sacred Heart Parish Sandringham Priest Rev Fr Frank O'Loughlin.
The blessing was attended by residents and staff, families and members of the Sandringham community, Sisters of Mercy, Mercy Health Group CEO, Chairman, Board members and project partners.
The event on Monday 13 July included a Mass, followed by blessings of the chapel, the aged care home and a water feature which was donated by the community group 'Friends of Fernhill'.
Mercy Place Fernhill welcomed its first residents in February this year after undergoing a full re-build, which included a large dining room, an activities room, a café, a hairdressing salon, landscaped gardens, and balconies on upper floors, which offer impressive views of Port Phillip Bay and nearby Sandringham Village.

Mercy Health Operations Director Aged Care, Voula Yankoulas, said the 120-bed aged care home, which boasts flexible care options and state-of-the-art facilities, has been warmly received by residents, their families and the local community.
"Mercy Place Fernhill empowers its residents to take control of their day and live as independently as possible," she said.
"We are proud to nurture companionship and a sense of belonging, whilst providing the highest quality care to all of those who call Mercy Place Fernhill home."
Mercy Health has provided a residential aged care service in Victoria for the past two decades. It has recently acquired four new homes in metropolitan Melbourne and Far North Queensland, bringing its total number of aged care sites in Australia to 22.
Messages to: Mercy Health