Archived News Item
A Big Step Forward
March 26, 2015
Aboriginal Women's Healing Centre
Sisters in Grafton were invited recently to attend Morning Tea at Gurehlgam to commemorate the apology to the Stolen Generation. Centre manager, Janelle Brown, used the occasion to announce receipt of a government grant for a significant project for the Clarence Valley – the Gurehlgam Healing Centre.
Janelle spoke to the gathering while standing in front of a mural painted by Gumbaynggirr artist Kim Healey depicting a tree with branches reaching to the sky. This mural is seen to be a metaphor for what the Healing Centre and the Women's Group are striving to achieve. Janelle pointed out that the image, in the reaching out of the branches, reflects the many possibilities the centre can bring in healing, not just to Aboriginal people, but the wider local community which benefits when issues such as grief, loss and trauma are addressed.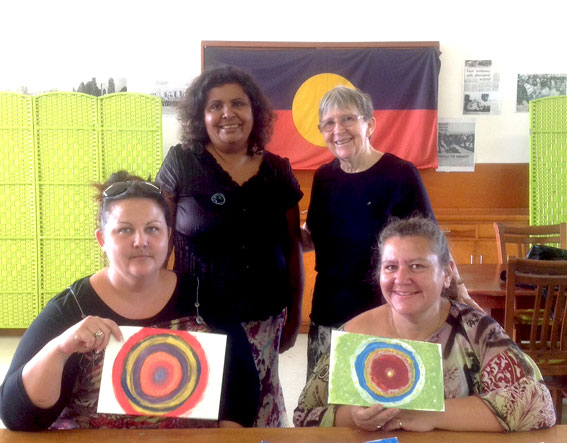 At the conclusion of the announcement regarding the grant and the future plans, Janelle gave a special 'thankyou' to the Sisters of Mercy for their donation which enables the air conditioning of the room set up for this work. The room was once a Science Laboratory in the former St Mary's College. With this addition and the Sisters' contribution of some pre-loved easy chairs, the area will be very suitable for the purposes in mind.
Along with future planning mentioned in her report, Janelle already runs a group each Monday morning. One week the venue is this area and the alternate is at the Public Housing Estate in South Grafton, where several programs are running. This is where I offer my support as a Holistic Practitioner, and feel very accepted and trusted as a Sister of Mercy. Janelle is a former student of mine, which makes this ministry very special and immensely worthwhile for all who are involved.
Messages to: Margaret Bray rsm
Photo:
Some participants after a weekly gathering at Gurehlgam Grafton. Back – Janelle Brown Coordinator with Sister Marg Bray rsm.