Archived News Item
Teaching across timezones
October 28, 2020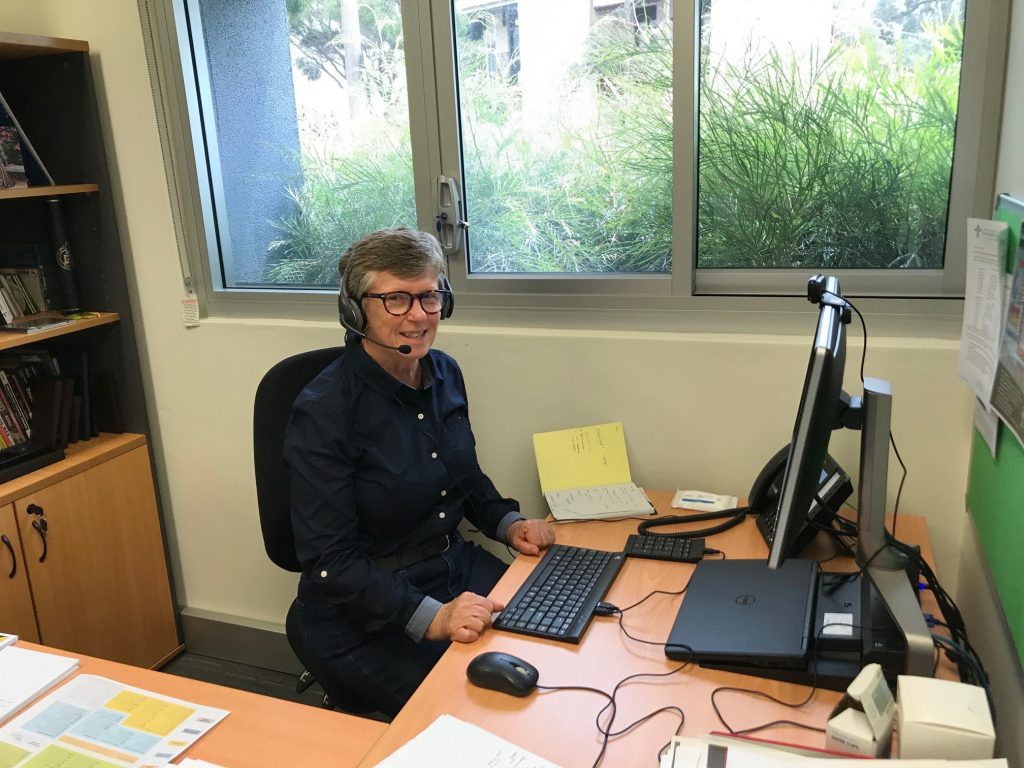 In an ordinary year Maryanne Loughry RSM AM would spend most of her time between Boston, Oxford, Rome and Sydney. With the onset of COVID-19 in March, Maryanne made the wise decision to return home to Australia, where she now undertakes her ministry remotely across several time zones.
Maryanne, who is a member of the faculty of Boston College, normally spends a considerable amount of time in Massachusetts teaching and undertaking other ministry activities.
"Normally in the first half of the year I find myself in Boston as part of my work with Jesuit Refugee Service (JRS), where I provide technical assistance on the JRS staff care policy and international pyscho-social work.
"Boston College has a memorandum of understanding with JRS, so I was there undertaking work for them when COVID become more pronounced.
"It became very evident that I needed to come home quickly. Australia's borders were closing and I was aware that if I stayed, it might become difficult to navigate the health system as a non-US citizen should I have needed it.
"So I came home and I brought my work from the northern hemisphere with me," she said.
In the months since she arrived back in Australia, Maryanne's unorthodox working hours have evolved.
"In the the middle of the year I taught a course online which normally I would have been in Boston to teach.
"I have had to navigate doing it remotely with the different time zones, which has been incredibly taxing!
"Normally I have to get up at 4.30am because the classes start at 5 or 5.30am my time, which is around 3pm in the afternoon their time. I have also had to record a number of lectures, and in order to have direct contact with the students I have also had to setup one-on-one's with them.
"I have 20 plus graduate students, so I have 20 additional appointments that I have to do by Zoom just to interact with them, whereas normally I would be talking with them in the corridors or classroom," she said.
Maraynne, who is currently teaching a course 'Global Policy – Issues and Implications', says that her challenges are nothing compared with the struggles that many of her students have been facing during this pandemic.
"The students have very much been impacted by the pandemic. They are having to study from home and attend classes remotely. Because I teach graduate students a number of them have family issues and many also have work issues. They are incredibly disappointed that all of their teaching is online and they can't interact with their peer groups," she said.
Maryanne said a highlight of this course are field placements, which the students usually undertake outside America.
"Unfortunately due to COVID, these placements will also be undertaken remotely," Maryanne said.
For one of Maryanne's students the COVID-19 pandemic has taken on a very real dimension, with the student having been diagnosed with the virus.
"The student was in one of my Zoom classes, I didn't realise that they were not looking well and by chance I asked them a question and they said 'I would like to tell you all I have got COVID'.
"The university and I have been following up with them. Thankfully they have been doing okay, however it has been incredibly challenging time for them," Maryanne said.
Maryanne said Boston College has gone into remote learning for graduate students, but we still have undergraduates on campus.
"The numbers of COVID cases has been going up in Massachusetts, so I have to be careful not to push my students too much but to still make sure there is sufficient material so there is enough merit required to pass the course.
"It has also required a lot more pastoral care then I would normally have to exercise," she said.
As if teaching a course for students in another hemisphere wasn't enough, Maryanne is also a member of several international boards; this requires meetings at various hours throughout the night.
"Most international work occurs with a US or a European timezone, so I have had to be on international board meetings sometimes from midnight to 3am.
"Its okay for the first night but if it goes for more than one night it is hard to recover in order to then function.
When asked whether she had ever fallen asleep during a class or meeting, Maryanne offered the following response –
"I haven't fallen asleep, but I was once asked to formulate a motion at a meeting early in the morning. I said I can barely keep awake, let alone formulate a motion so I had come to the end of my capacity!" she said.
Maryanne said that despite the challenges she is grateful to be able to still undertake her ministry.
"This is a whole new way of being. I am however grateful to be here living through this pandemic in Australia and to be able to continue to work with students and other organisations albeit in this different way."
"I don't think I have been this long in Australia without travel since 1994!", Maryanne said.
Messages to:  maryanne.loughry@mercy.org.au
Click here to return to Just Mercy