Archived News Item
7.07.07 – the mid-way point for the MDGs
July 5, 2007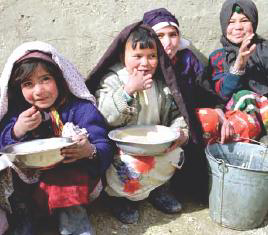 In 2000 the nations of the world established eight Millennium Development Goals (MDGs) with the overall aim of halving extreme global poverty by 2015. July 7, 2007 marks the mid-way point. The MDGs are still achievable if we act now. This will require inclusive sound governance, increased public investment economic growth, enhanced productive capacity, and the creation of decent work.
UNITED NATIONS: THE MILLENNIUM DEVELOPMENT GOALS REPORT 2007
"In the Millennium Declaration of 2000, world leaders set forth a new vision for humanity… Leaders committed themselves "˜to spare no effort to free our fellow men, women and children from the abject and dehumanizing conditions of extreme poverty'.
We must recognise the nature of the global trust at stake and the danger that many developing countries' hopes could be irredeemably pierced if even the greatest anti-poverty movement in history is insufficient to break from "˜business as usual'.
Are we on course to look back, in 2015, and say that no effort was spared?"
Source: Meeting the Challenges of a Changing World, Annual Report of the Secretary-General on the Work of the Organisation, 2006 from United Nations: The Millennium Development Goals Report 2007, page 36.
Foreword from Ban Ki-moon, Secretary-General, United Nations
Since their adoption by all United Nations Member States in 2000, the Millennium Declaration and the Millennium Development Goals have become a universal framework for development and a means for developing countries and their development partners to work together in pursuit of a shared future for all.
We are now at the midpoint between the adoption of the MDGs and the 2015 target date. So far, our collective record is mixed. The results presented in this report suggest that there have been some gains, and that success is still possible in most parts of the world. But they also point to how much remains to be done. There is a clear need for political leaders to take urgent and concerted action, or many millions of people will not realise the basic promises of the MDGs in their lives.
The MDGs are still achievable if we act now. This will require inclusive sound governance, increased public investment economic growth, enhanced productive capacity, and the creation of decent work. Success in some countries demonstrates that rapid and large-scale progress towards the MDGs is feasible if we combine strong government leadership, good policies and practical strategies for scaling up public investments in vital areas with adequate financial and technical support from the international community.
To achieve the Goals, nationally-owned development strategies and budgets must be aligned with them. This must be backed up by adequate financing within the global partnership for development and its framework for mutual accountability. The world wants no new promises. It is imperative that all stakeholders meet, in their entirety, the commitments already made in the Millennium Declaration, the 2002 Monterrey Conference on Financing for Development, and the 2005 World Summit. In particular, the lack of any significant increase in official development assistance since 2004 makes it impossible, even for well-governed countries, to meet the MDGs. As this report makes clear, adequate resources need to be made available to countries in a predictable way for them to be able to effectively plan the scaling up of their investments. Yet, these promises remain to be fulfilled.
I commend this report as a key resource to help show what can be achieved and how much still needs to be done. Reliable and timely information is key to formulating the necessary policies and strategies to ensure progress, monitor development and make the MDGs achievable.
Source: United Nations: The Millennium Development Goals Report 2007, page 3.

The following are some of the key challenges that have to be addressed:
§ Over half a million women still die each year from treatable and preventable complications of pregnancy and childbirth. The odds that a woman will die from these causes in sub-Saharan Africa are 1 in 16 over the course of her lifetime, compared to 1 in 3,800 in the developed world.
§ If current trends continue, the target of halving the proportion of underweight children will be missed by 30 million children, largely because of slow progress in Southern Asia and sub-Saharan Africa.
§ The number of people dying from AIDS worldwide increased to 2.9 million in 2006, and prevention measures are failing to keep pace with the growth of the epidemic. In 2005, more than 15 million children had lost one or both parents to AIDS.
§ Half the population of the developing world lack basic sanitation. In order to meet the MDG target, an additional 1.6 billion people will need access to improved sanitation over the period 2005-2015. If trends since 1990 continue, the world is likely to miss the target by almost 600 million people.
§ To some extent, these situations reflect the fact that the benefits of economic growth in the developing world have been unequally shared. Widening income inequality is of particular concern in Eastern Asia, where the share of consumption of the poorest people declined dramatically between 1990 and 2004.
§ Most economies have failed to provide employment opportunities to their youth, with young people more than three times as likely as adults to be unemployed.
§ Warming of the climate is now unequivocal. Emissions of carbon dioxide, the primary contributor to global climate change, rose from 23 billion metric tons in 1990 to 29 billion metric tons in 2004. Climate change is projected to have serious economic and social impacts, which will impede progress towards the MDGs.
This report also points to disparities within countries, where particular groups of the population – often those living in rural areas, children of mothers with no formal education and the poorest households – are not making enough progress to meet the targets, even where the rest of the population is. This is particularly evident in access to health services and education. In order to achieve the MDGs, countries will need to mobilise additional resources and target public investments that benefit the poor.
Success in achieving the MDGs in the poorest and most disadvantaged countries cannot be achieved by these countries alone. Developed countries need to deliver fully on longstanding commitments to achieve the official development assistance (ODA) target of 0.7 per cent of gross national income (GNI) by 2015. It requires, in particular, the Group of 8 industrialised nations to live up to their 2005 pledge to double aid to Africa by 2010 and European Union Member States to allocate 0.7 per cent of GNI to ODA by 2015. In spite of these commitments, ODA declined between 2005 and 2006 and is expected to continue to fall slightly in 2007 as debt relief declines.
Addressing the challenge of climate change has to be a new but integral element of each country's development strategy. More importantly, however, it should become an enhanced part of the international development agenda: All development partners should collaborate intensively in devising a shared global strategy to address this global problem.
The Millennium Declaration, signed by world's leaders of 189 countries in 2000, established 2015 as the deadline for achieving most of the Millennium Development Goals. The majority of MDG targets have a baseline of 1990, and are set to monitor achievements over the period 1990-2015. This report presents an assessment of progress midway through the process, based on data available as of June 2007.
Further Information
Human Rights and Equal Opportunity Commission, Aboriginal and Torres Strait Islander Social Justice
http://www.humanrights.gov.au/social_justice/index.html
Millennium Campaign
http://www.millenniumcampaign.org/site/pp.asp?c=grKVL2NLE&b=185529
http://www.millenniumcampaign.org/site/pp.asp?c=grKVL2NLE&b=138312
Millennium Campaign Voices Against Poverty
http://www.noexcuse2015.org/index.asp?PageAction=Custom&ID=8
Gender Equality and the Millennium Development Goals
http://www.mdgender.net/goals/
Stand Up Against Poverty 2007
http://www.standagainstpoverty.org/
Oxfam Campaigns
http://www.oxfam.org.au/campaigns/
Caritas Australia
http://www.caritas.org.au//AM/Template.cfm?Section=Home1
Contact: Carmel Heagerty RSM, Institute Justice Co-ordinator