Archived News Item
2009-2010 Annual Report of Mercy Works Inc.
February 16, 2011
Download the 2009-2010 Annual Report of Mercy Works Inc., the relief and development agency of the Institute. Available in PDF format, the report provides an overview of our work in Papua New Guinea, Timor Leste, Pakistan and Australia during the last financial year.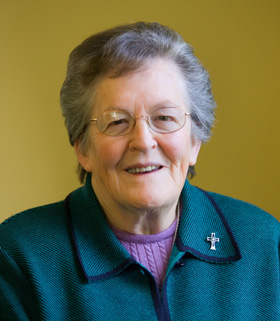 A Report from the Chair of the Board
As we approach the close of another year of activities within the life of Mercy Works Inc., we give thanks for the many small ways in which we are making a difference, both locally and globally. Whilst the Board continues to be concerned with its inherent timelines, evaluation of programmes, search for donors and consideration of new projects, it is salutary for us all to remember the 'why' of our organisation.
As you read this Annual Report and explore the riches of the stories shared in The Bilum, you will see that this agency of the Institute of Sisters of Mercy of Australia exists so that the most vulnerable in our world may not be forgotten. Through the committed service of our workers onshore in Australia and overseas, countless persons in some of the most desperate living conditions in our world are supported to develop skills necessary for their basic living and ongoing sustainability. Guided by the Millennium Development Goals (MDGs), we work with those who are needy and strive to achieve positive change at a structural level, so that the social and economic injustices they face may be alleviated.
In the past year, we have seen expanded activities within Mercy Works Inc. and continuing requests for engagement from other partner organisations. In particular, during this past year, Mercy Works Inc. has expanded its Community Education and Development Programmes quite significantly, in the hope that a wider group of Mercy friends will become more aware of our activities and offer ongoing support wherever possible.
We are grateful to our donors, small and large, for their generous contributions. We have been encouraged by the emerging interest of a small number of corporate bodies who share our concerns for the poverty and needs of our people, particularly in Papua New Guinea, and who are moved to make a meaningful response. Ensuring the financial
sustainability of Mercy Works Inc. remains a high priority for our Board.
The process for changing the corporate structure of Mercy Works Inc. is well advanced, and we look forward to the benefits which will flow from this decision. Given current developments within the Institute of Sisters of Mercy of Australia, we anticipate that there could be further changes in the position of our organisation within Mercy ministries. In the spirit of our founder, Catherine McAuley, we will be ready to do whatever is recommended, in the strong hope that the most vulnerable in our society will not be forgotten, but rather that they will be enabled to move from the profound insecurity and poverty which so many now experience to situations which respect and support their basic human rights.
I thank the Institute Leadership Team and our Congregation Leaders for their generous support and encouragement in all our endeavours. The commitment of Board members and the staff of Mercy Works Inc. has been outstanding. I am most grateful to them for their generosity and dedication to our works of Mercy.
Mary Duffy RSM
Chair