Archived News Item
2006-2007 Mercy Works Inc. Annual Report
November 1, 2007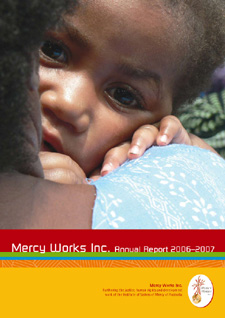 At the annual general meeting of Mercy Works Inc. on November 14, 2007 the Board released the agency's 2006-2007 Annual Report. Available in PDF format, the report contains articles on projects in Australia, Papua New Guinea, Timor Leste, Pakistan, Sudan, Kenya and Peru.
"These projects have centred around education, health, refugee assistance both during displacement and resettlement, the prevention of violence against women and support for orphans," explained Sister Mary Densley RSM, in her report as Chair of the Board.
"We have continued our Mercy Refugee Service programme in Australia and an active involvement in community development education concerning development issues."
Mercy Works Inc. supports the local and overseas relief and development activites that are part of the vision and mission of the Institute of Sisters of Mercy of Australia.
The programmes engage in partnerships with communities to promote justice, self reliance and to support displaced people and communities who are denied access to basic resources such as education, health care and social welfare.
THE MERCY WORKS INC. 2006-07 ANNUAL REPORT HERE.