Archived News Item
1967 Referendum: 40 years on
May 10, 2007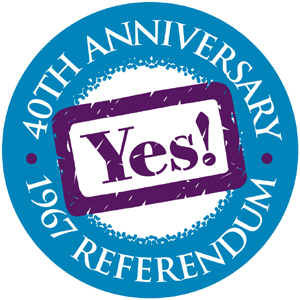 The year 2007, and specifically Sunday May 27, 2007 marks the fortieth anniversary of Australia's most successful referendum and a defining event in our nation's history.

The Referendum amended the Commonwealth Constitution to allow Federal Parliament to make laws for Aboriginal people and to ensure that Indigenous Australians were counted in the national Census.
It was a vote by the Australian people for something to be done about the state of Aboriginal lives by the national government.
The "˜Yes' vote affirmed that Indigenous Australians should have running water, nice houses, good education and access to health services.
"Our citizenship rights and our Indigenous rights cannot be separated. We cannot have one without the other." Professor Lowitja O'Donoghue
If Indigenous and non-Indigenous Australians working side by side in the lead-up to the referendum could achieve such a resounding result, imagine what Australians can do to progress today's reconciliation agenda!
The Sisters of St Joseph and the Institute of Sisters of Mercy of Australia will continue working together on Indigenous issues. The Institute calls all sisters to reflect on the significance of the 1967 Referendum and how Indigenous Australians living in a first world economy can still be so far behind the standard of living that other Australians take for granted.
Reference:
The Social Justice Report 1997, The Aboriginal and Torres Strait Islander Social Justice Commissioner, http://www.humanrights.gov.au/social_justice/sj_reports.html#97
Reconciliation Australia http://www.reconciliation.org.au/i-cms.isp?page=345
From: Specific Issues Committee, Indigenous Concerns (Sisters Liz Rothe and Rose Glennen) The Committee warmly invites your response to the article or the issue.
Email: indigenous.concerns@mercy.org.au
Contact: Carmel Heagerty RSM, Institute Justice Co-ordinator