Archived News Item
140 Years of the Sisters in South Australia
May 6, 2020
Last Sunday, May 3, was the 140th anniversary of the establishment of the Sisters of Mercy in South Australia.
Originally a physical celebration was planned, however the restrictions caused by COVID-19 meant that a new way had to be found to mark the occasion.
A main aspect of the revised celebrations was a video released to the Institute that was produced by the sisters, 'Our Argentinian Connection – 140 Years of the Sisters of Mercy in South Australia'. In it they tell the story of the 24 original Sisters of Mercy who arrived in Adelaide on May 3 1880 from Argentina.
Another highlight was a visit to each of the graves of the original 24 sisters, who are laid to rest in West Terrace and Mount Gambier in South Australia, Coolgardie in Western Australia and Buenos Aires in Argentina.
The Sisters in South Australia were delighted to receive a message from the Sisters in Argentina, celebrating their shared heritage.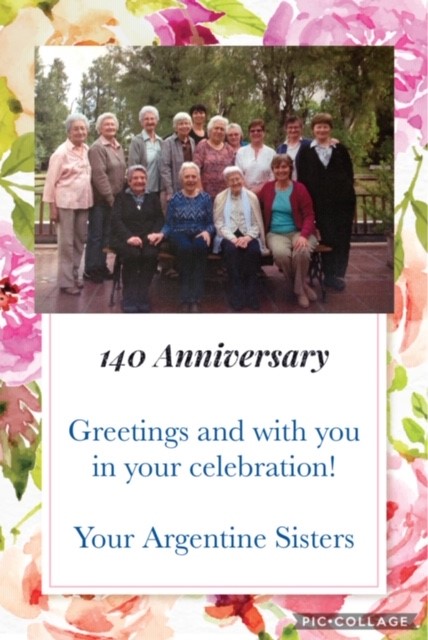 Dear Sisters of Adelaide:
It certainly is a privilege and a special gift to be part of your history and celebration of a 140 years in Adelaide, Australia. Going back to the 19 C, the Irish Mercies in Argentina had to leave Buenos Aires, due to political unrest and the influence of Freemasonry brought from Europe.
The mystery of the Mercy History weaving its way through leaving Argentina and establishing a foundation in Adelaide brings us together today celebrating our deep roots. We are extremely grateful to these Irish and Argentine women, who led by the Spirit ended in Australia and ten years later returned to Argentina.
In their name and ours we would have loved to be there in person as it was planned, but since the COVID-19 pandemic doesn't allow us we want you to know that we are with you at heart and in our prayers, hoping that we can make it in
May 2021.
With much love,
Argentine Mercies
The Founding Story 
Complementing the video, Adelaide Sister Mary-Anne Duigan RSM has written below about the foundation of the Sisters of Mercy in South Australia and the Argentinian connection.
The story began in 1831 Ireland when Catherine McAuley founded the Sisters of Mercy. As their numbers grew, they established many foundations in Ireland,  England and later Scotland,  and then in Newfoundland and the United States.  In 1846 the first group, under the leadership of Mother M. Ursula Frayne, came to Australia and began working in Perth.
In 1855 a request came from Argentina for Sisters to work among the Irish settlers there. A group of Sisters  arrived on the 24th February, 1856 in Buenos Aires under the leadership of Mother M. Evangelista Fitzpatrick. A hospital, an orphanage, a home for Irish working girls, a free school and a boarding school were established, and the original Irish Sisters were soon joined by young Argentinian women.
The political situation became very unstable, and after 24 years working in Argentina the decision was made for all the Sisters to leave the country for their own safety. Archbishop Reynolds of Adelaide, South Australia invited them to make a foundation in his Archdiocese. The twenty four Sisters made the journey to Australia and arrived in Adelaide on 3rd May, 1880.  Two weeks later 12 of them travelled to Mount Gambier to establish another house there. This became a separate foundation with Mother Baptist MacDonnell as Founding Superior.
(Eventually, in 1941, Mt. Gambier amalgamated with Adelaide again.)
The Sisters were a mixture of Irish-born and Argentinian-born. English was a second language for some of them. Those who stayed in Adelaide established themselves in Angas Street in the city. Both groups quickly opened schools and a House of Mercy was established at the back of the Convent at Angas Street in in August 1880.
In May 1890 six of the original 12 who had gone to Mount Gambier returned to Argentina to re-establish the Order in Buenos Aires. Mother Baptist MacDonnell was the Superior of this group. Although the political situation there has been volatile at times, they continued to thrive.
In 1897 a request came  to Adelaide from Bishop Gibney in Perth for some sisters to go to the gold fields in the Kalgoorlie region. One of the original founding Sisters from Argentina, Mother Antonia McKay,  was appointed the superior of a small group of 5 nuns who established a foundation in Coolgardie in 1898. This foundation amalgamated with Perth in 1938.
In 1902 the Wilcannia-Forbes group of Mercies from Broken Hill established a house at Mount Barker in the Adelaide Hills, and opened a school. In 1915 they opened another house and school at Brighton, a seaside suburb. Originally, this was a place of respite for the Sisters who worked in harsh outback conditions in Western NSW.
Meanwhile, contact was maintained between the former Argentinian groups and the Argentinian Sisters who had returned.
Three of the Adelaide Sisters were heiresses, and had to return to Argentina to claim their inheritance. One, Sr. Cecilia Cunningham, received a large fortune and the money was used to build the beautiful, heritage listed chapel at the Angas Street Convent, two branch houses at Parkside and Henley Beach, and to purchase several other buildings.
In 1955 Archbishop Beovich of Adelaide travelled to a Eucharistic Congress in Rio and the Sisters requested him to visit the Sisters in Buenos Aires on the way. He received a very warm welcome and said he found them very like the Adelaide Sisters.
Mother Dolores, in one letter to the Sisters in Buenos Aires in 1955,  expressed her concern about "your country's troubles" and added "if the worst ever comes to the worst (and it won't please God) we will receive you with open arms."
Sisters from Adelaide visited them over the years, the first being Sr. Pat Fox in 1972. Sr. Deirdre Jordan wrote a letter from there in 1977 describing the difficulty under which the Sisters labored, especially in the Barrios. Sr. Judith Redden and Sr. Deirdre made several visits, and several others, including Bernadette Marks, Patricia Feehan and Lyn Beck were also warmly welcomed by the Sisters there. In May 1962 there were 47 Professed Sisters in Argentina. In 1977 there were 38 Sisters and by 2005 their numbers had dropped to 19. As a Congregation they firstly amalgamated with the Detroit Mercies in 1962 and are now part of the Sisters of Mercy of the Americas.
Sr. Judith Redden established a partnership between the school at SAC and the work the Sisters were doing in Argentina. This continued for many years.
Sr. Deirdre O'Connor, as Archivist, established a close relationship with several of the Argentinian Sisters, and many letters are preserved in our Archives and in the Argentinian Archives.
Of the 24 Sisters who came to Adelaide in 1880, 5 are buried at Mount Gambier, 1 is buried in Coolgardie, and 12 are buried in the West Terrace Cemetery in Adelaide. The 6 who returned in 1890 are buried in Buenos Aires. Sr. Margaret Mary Kenny (niece of one of the founding Sisters), who joined the Adelaide Mercies from Argentina in 1902 and who died in 1966, is also buried at West Terrace.
Messages to: maryanne.duigan@mercy.org.au
Click here to return to Just Mercy