Archived News Item
100 Days Smarter: St Aloysius Reception Students Celebrate Their First 100 Days of School
July 27, 2017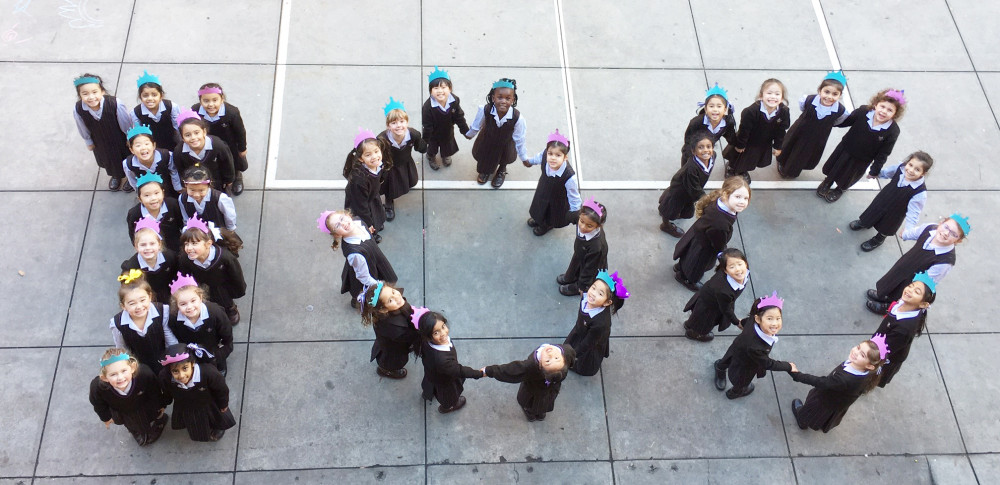 On Friday 30 June, Reception (Kindergarten) classes celebrated their 100th day of school at St Aloysius College in Adelaide, South Australia. The unique and creative celebration was guided by Reception teachers Ms Amanda Hickey and Ms Kate Ruston.
The children participated in a range of activities that centred on the number 100 including 'What would you buy with $100?' and 'What will you do before you turn 100 years old?'
The marking of 100 days of school was a first for St Aloysius College and was proposed and implemented by new teacher; Amanda Hickey who had seen these celebrations done at a few others schools and had a desire to replicate it with her own class.
"The first time I heard of '100 Days of School' I was inspired and knew that it was something I wanted to do with my own class," said Amanda. "It's difficult for children to grasp the concept of time and so this is a really fantastic way of showing the children how far they have come in 100 days in a way they are able to understand, process, and most of all have fun with."
Amanda explains that the festivities started with a visualisation game to try and put into context the 100 days and specifically what they had achieved in that time. "I asked them to close their eyes and remember their first day of school. I reminded them that most of them couldn't read and some of them couldn't hold scissors or use a glue stick," says Amanda. "Then I asked them to open their eyes and list all of the things they can do now, and after they had listed the things they could do, and were so proud of, I explained that they learned to do all of those things in only 100 days."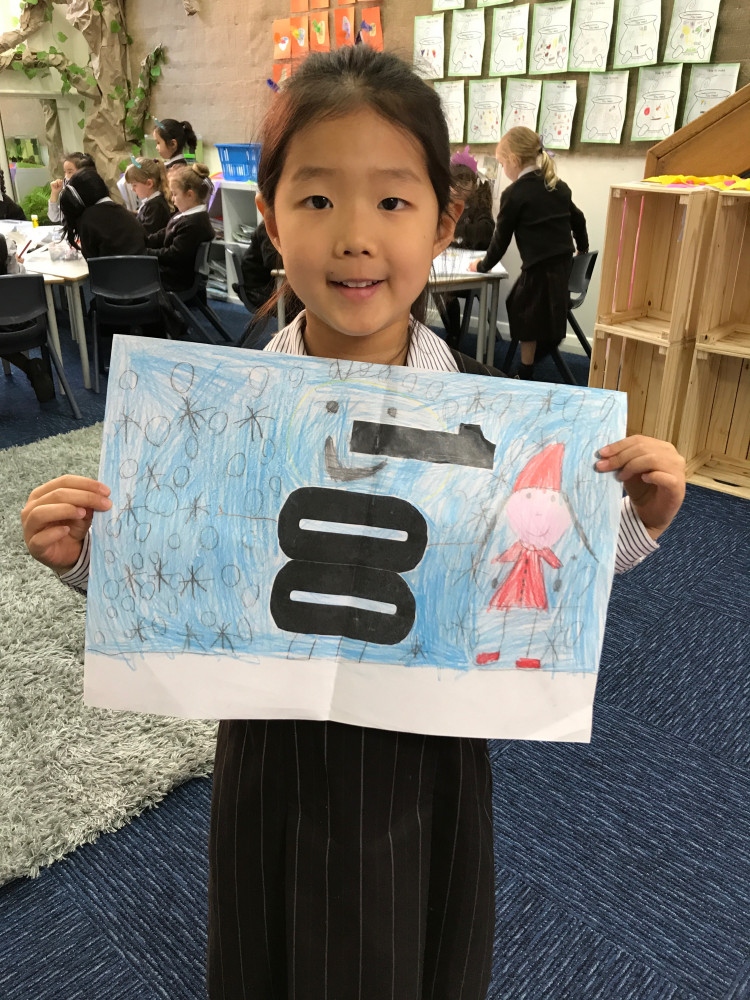 Other activities undertaken by the children included making reading glasses out of a '100' cut out; making a craft project from the number 100 (pictured below); physical exercises counting up to the number 100 e.g. jumping jacks; and a bucket list activity that encouraged the girls to tell each other what they wanted to do before they turned 100. Eating ice-cream before breakfast was a popular one!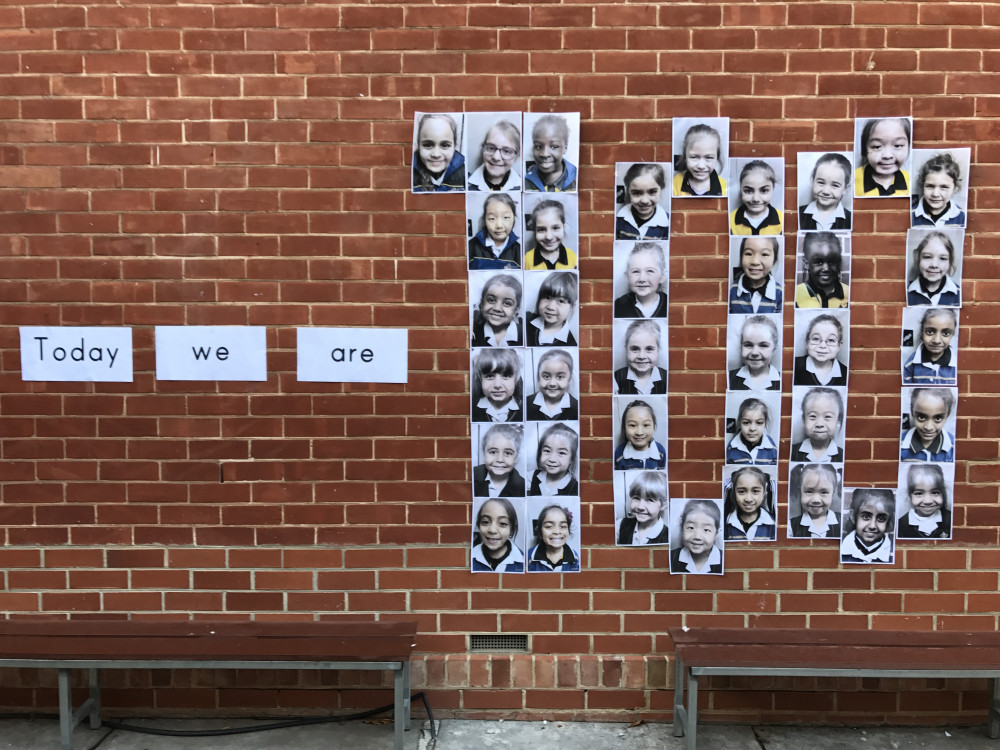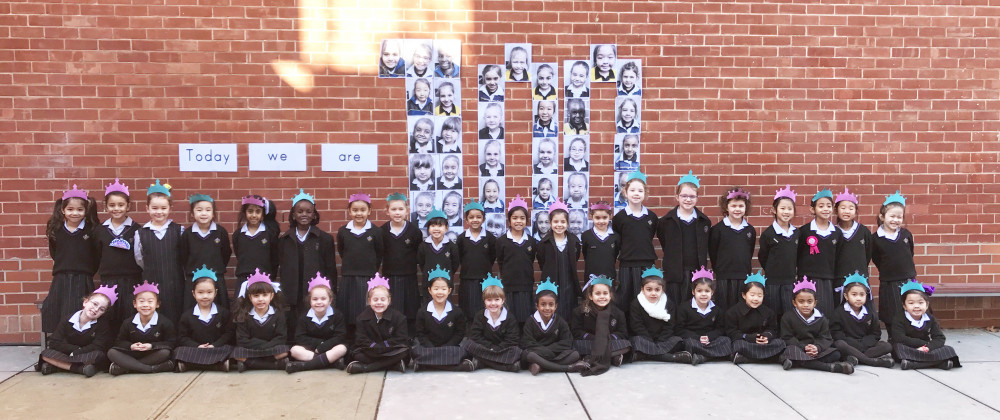 To accompany the bucket list activity, each Reception student came face to face with their 100-year-old self. "I used an app to age the girls to 100 years old and they loved this! They got a good giggle out of it".
By far the most popular activity was a surprise visit from their Year 6 buddies who accompanied each student through 100 steps, beginning at the Redden Centre, to commemorate their 100 days of learning at St Aloysius College.
"This was my personal favourite part of the day," says Amanda. "The 100 steps were walked hand-in-hand with their buddies and showed them how far they had travelled in their schooling journey so far with the support of their big sisters."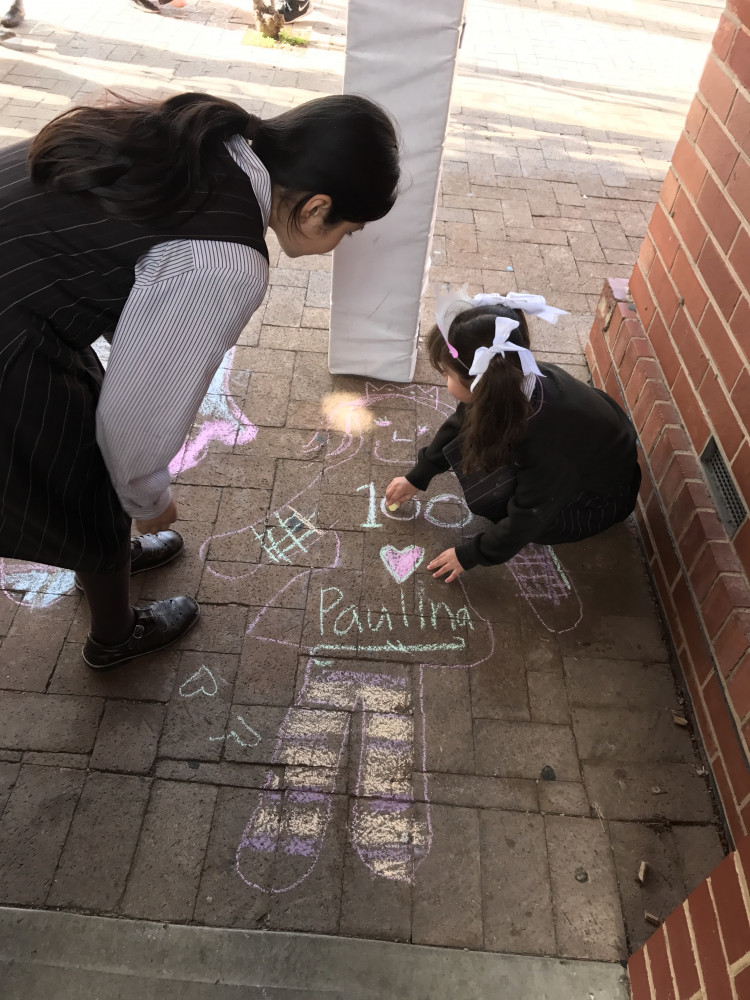 When they reached 100 steps they lay on the ground while their buddy traced around their body with chalk and then they decorated their honorary spot in the school.
Parent and school office worker, Amanda Gonzalez Salas, has a daughter in Amanda's class and expressed her own gratitude for the celebrations saying:
"Paulina has loved school since day 1, which is fabulous, and she came home that day sharing how fun the activities were – they clapped 100 times, they walked 100 steps, they counted up to 100 and did lots of activities based on the number 100! I loved how the teachers worked on organising this day and as a parent I'm grateful and really pleased about how my daughter has progressed in Reception at St Aloysius College. It's amazing to see how she's engaged so positively in her learning over her first hundred days at school. The year is going way to fast, that's for sure, and I can only wish for the next hundred days to be even better!"
So how will the Reception teachers of St Aloysius top this celebration?
"With 100 days behind us we are now focused and practicing for the SAC Spectacular which will be held at the Adelaide Entertainment Centre," says Amanda. "Reception has a Hawaiian theme this year and they will all be performing the Moana song, "How Far I'll Go". We can't wait!"